Today was a good day.
I sat at the coffee shop after dropping off the kids at their respective schools. I relaxed with my hazelnut breve and settled in.
It was the first day all week that I didn't have to rush anywhere.
I took the time I needed to refill... to be recharged.
The last week I have felt God carrying me. I can't describe the peace. I don't know if it's possible to even come up with the right words.
Last week I described how I felt
pushed and pulled
between what I knew God was wanting me to do, and what I felt He was calling me to, and what my self, my flesh was wanting to do. I was willfully choosing not to listen to Him.
After working on my bible study some a night or so after I wrote
that post
, I came across something about God wanting us to start believing Him. It was the time now, and we shouldn't wait till tomorrow.
However, at that point as I read it, Dave was rolling over to turn out the light, so I had to wait. I just said in my heart to God that I wasn't putting Him off again, but logistically I needed sleep, and my husband was turning out the light.
In the morning, I headed to the coffee shop before I went up to the church to lead our morning ladies bible study. There I sat, with my bible and bible study open, and my journal out. I wrote to God about where I was at, what I was feeling and my hesitations. I thought about my counseling session earlier in the week and how Tricia had been working with me, trying to help me really know and believe that even though this "thing" happened in my past, that I was still valuable, worth saving and pure.
The more I prayed through it, I could see how God had paved the way through my study that week on my value in God's eyes, and that He wanted me to believe that I am who He says I am. God is so good how He orchestrates things. There is no way that this (and other things He has done) are coincidences.
I finally surrendered last Thursday morning. I sat in a secluded corner of the coffee shop, cried and wrote and told God that I was going to choose to believe Him. Right then and there. No matter what He called me to. No matter what it looked like. No matter what I had to leave behind.
In Hebrews 11:8 it says, "By faith Abraham, when called to go to a place he would later receive as his inheritance, obeyed and went, even though he did not know where he was going."
I feel like God has been calling me to my promised land. Though I do not know where I am going, I am packing up my things, getting rid of what I don't need to weigh me down in the journey, and I am obeying. I am going. I don't know where. I don't know what for. I don't know how.
But I do know Who I am going with. I also know that He is going to reveal more and more of Himself to me. The more I know about Him, the more I will realize that God is that, and so much more. I will never learn all there is to know about God.
I am ok with that.
I just know that since I have chosen to believe Him… every day this week… I have felt a peace that I haven't in a long time. I have felt a joy – not always that I'm happy – but a deeper internal "something" I can't really describe.
Maybe it's a knowing I'm not alone.

Maybe it's the feeling that I'm finally making the right choices to believe Him.

Maybe it's that I'm finally obeying Him.

Maybe it's that I'm not running away any more.

Maybe it's that I'm not holding onto my past.
I am finally choosing to believe that I am fully forgiven for every past sin – completely and absolutely forgiven. To the point that it is wiped out, demolished, destroyed.
I am finally choosing to believe daily that I have God's child, He has a glorious inheritance for me, His incomparably great power is at work within me, He protects me under the shadow of His wing, and His love for me is far bigger, deeper, higher, and wider than I could ever imagine.
For me.
Me!
He knows me inside and out.
So do I.
He knows me better than I do, even the motives behind things I do, that I don't even realize are there.
But He holds me tight, even when I let go of Him, he never lets go of me.
I know this because I have seen it.
I know this because for a while here I have let go of Him. Now I am choosing to grab back onto His hand (at least with a more conscious effort than in the past months) and believe Him for every promise He has given me. Promises He has given to all of us.
In love, we are blessed, chosen, adopted, accepted, redeemed, forgiven, secure, called, confident, free, anointed, able…
That is who God says we are… but there are even more things that are promises to us, just one of them being that He will never leave us or forsake us. (Yes, even when it feels like He has, He is still there)
Personally, I have the sense that I am being called out to my promised land here on this earth. I have a heavenly promised land, but I believe that God has a "promised land" here on earth that He wants to give me.
All He is doing is asking me to believe Him.

Asking me to follow where He leads.

Asking me to take the time and really listen,

Really watch to see where He is moving,

Where He is calling me to.
It's not going to be in ways I expect maybe, but it is going to be great! Because our God is a great God!
I am excited. Scared. Anticipating what He will do in my life. Afraid. Anxious.
Yet at the same time I feel this very secure sense of peace. Yes, some things have come along this week to try to throw things into that peace. There have been times when I have succumbed to the pressure, but each time, God has turned my eyes, heart, thoughts back to Him and the peace has invaded my soul again.
I feel like He is asking me to just stay close to Him, resting in His embrace. I feel like I am truly covered with His feathers and finding refuge under His wings. (see
Psalm 91
) I am just standing next to Him, waiting as He points to something and says, "Try that, there. See how this stretches you? This is where I want you to go."
One new little assignment He gave me that started this week. I don't see the big picture. I'm not supposed to. He does though. I am choosing to trust. Choosing to take the time to see what He sees and to listen like He wants me to.
I am choosing to actively believe Him. Walking in faith. Walking, not just believing IN God, but BELIEVING Him. Believing Him leads to hope...
I want God to later say of me, "
By faith
Heather…."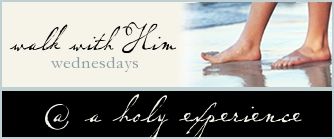 Though this post is a bit late for the Walk with Him Wednesdays, I couldn't help but join in on this discussion this week, because I saw how God was working through time in my life - and asking me to take the time with Him I needed.
Please hop over to
A Holy Experience
and meet
Ann
. You are in for a treat.